The Goetheanum is the center of a global network of spiritually dedicated people. As the home of the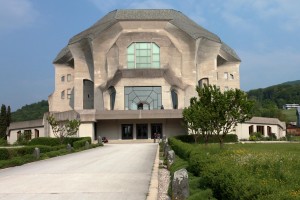 School of Spiritual Scienceand the General Anthroposophical Society, it serves as a place for exchanges over spiritual issues and trainings in artistic and scientific fields. The events held here range from lectures on special topics to large international confrences. On the stage, local and touring ensembles present Eurythmy, dramas and plays, puppetry, and musical performances. Located in the Jura landscape 10 km south of Basel, the Goetheanum, with its expressive architecture, sits on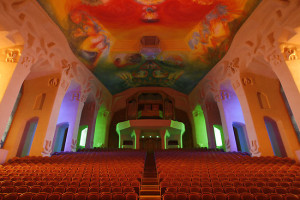 Dornacher Hill. The Goetheanum has a picturesque garden park, café, bookstore and card shop, and is an inviting place to visit.
Around 180 buildings, including many private homes, were erected around the famous Goetheanum over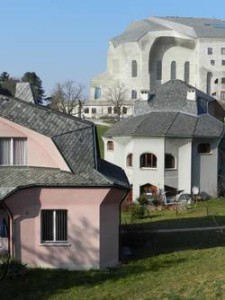 the last 100 years. The form language they share is typical of the Goethean or sculptural-organic building style. In celebration of the 150th birthday of Rudolf Steiner, the founder of anthroposophy and designer of the Goetheanum, these buildings have been documented for the first time in an architectural guide book.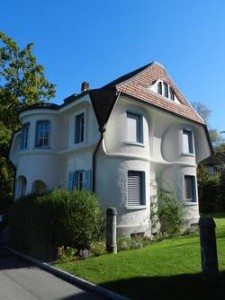 The buildings not only share the same architectural features, with one another and with the Goetheanum, their orientation and location – perched on a hill above the valley of the river Birs – also reflect the original concept of an "Anthroposophists' Colony" where members of the Anthroposophical Society could live and work. This social and spatial organism is unique in the world and, despite many social and architectural transformations over time, its qualities are still noticeable today.
The original Goetheanum was built during World War I by workers and artists from all of the warring nations. An arsonist set it ablaze on December 31, 1922. The night turned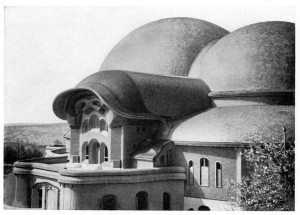 red as the wooden building burned. Steiner related this arson to that of Herostratus burning the Temple of Artemis at Delphi. By  Christmas 1923, the whole Anthroposophic Society was refounded out of the ashes and new construction began in 1925. The current Goetheanum was opened on September 29, 1928.
DVD showing the architecture of the Goetheanum
The Representative of Mankind. This statue carved by Rudolf Steiner depicts the human being as one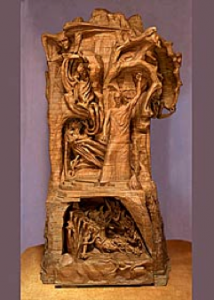 who stands between the polarities. Depicted above the human is Lucifer who willing casts himself down when out of freedom the human unites with the Christ. And depicted below is Ahriman who in the presence of the warm and free human being must withdraw to an earthly realm below.